Music and BBQ go together like…well Music and BBQ.  All concerts are free of charge and will be held in the Mauldin Cultural Center's Outdoor Amphitheater right on the festival grounds. Bring your lawn chair and blankets and enjoy a family picnic as you eat your BBQ and enjoy these great artists!  Note: no outside food/drink permitted. This is a smoke-free event.
—————
FRIDAY, SEPTEMBER 22  |  6:30 p.m.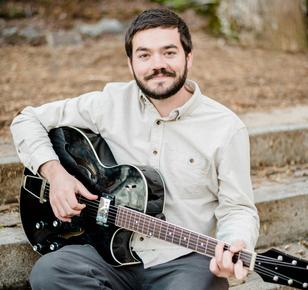 "As if his music wasn't convincing enough, his friendly stage presence and natural vibe with his audiences make it easy to become a fan of the young man. Not only that, but he's also perfected the songwriting formula to match his style: a little bluesy, a little poppy, 100% authentic…" – Shutter16 Magazine | Read More
————-
SATURDAY, SEPTEMBER 23  |  12 – 1 p.m.
Meteorologist by day, musician by night, Jack Roper is the heart of rock 'n' roll band, "The Weatherman Band." Roper is an award winning radio and TV personality and the current host of "Your Carolina" on channel seven weekdays.
SATURDAY, SEPTEMBER 23  |  1:30 – 2:30 p.m.
Doug Hunt & Burning Daylight is made up of five talented musicians sharing life's journey through Bluegrass.